'Our Story' by ES2 + Rocky Bay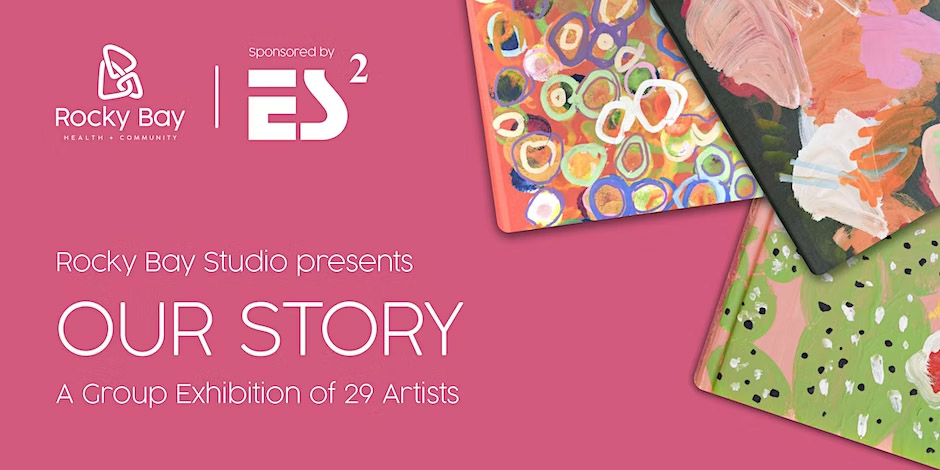 You are invited to join us on opening night! Our Story is a group exhibition showcasing the work of 29 artists living with a disability.​
Sponsored by ES2, 'Our Story' opens with a launch event on the 16th of February at the Murray Rooms on level 2 at QT Perth hotel from 6pm – 9pm. Light refreshments provided by QT hotel on the night.
Nestled in the heart of Perth's CBD, it provides the perfect space for the exhibition of these unique pieces and provides the chance for guests to meet the artists as well as the team behind the Rocky Bay Studio. Providing additional entertainment on the night will be multi-instrumentalist and loop-artist Cat Meow, who artfully combines small percussion, guitar, mandolin, and melodic with heavenly vocals and a warm, charismatic, sensory friendly sound.
Defying the adage "Don't judge a book by its cover." We proudly invite you to our group show featuring multi-disciplinary artworks by 29 artists living with a disability, each with their own story to tell. The artists' highly personal narratives have escaped the pages of the books that form the canvas and have spilled over the spine and cover for all to see. Offering a rich tapestry of colour, texture, line, and form to be admired. Each artist has honed their skills through attendance at the renowned art groups at the Rocky Bay Studio.
All artworks for the 'Our Story' exhibition have been created in-house at the Rocky Bay Studio and mounted on locally sourced second-hand canvas books. Accompanying each piece will be a description of the work and the concept behind it, offering insight into the context for each piece and allowing a rare glimpse into the mind of the artist. The venue is fully wheelchair accessible, making this exhibition a welcoming and enjoyable event for all.
The Rocky Bay Studio is a place where the imagination runs wild. This vibrant art space holds workshops and creative art sessions focusing on skill development, personal interests, and independent expression, with the mission of making a positive impact on the overall well-being of our talented artists living with a disability. By exploring and developing these artistic voices we build confidence, and a sense of pride evident in every work of art.
When: Thu 16th Feb 2023
Time: 6.00pm – 9.00pm
Where: QT Perth 133 Murray St Perth, WA 6000
Click Here to RSVP today.
_______
ES2 Events
We were proud to have been part of and supported AISA's PerthSEC Conference on Friday 19th Nov.Always great to catch up with familiar faces and security practitioners to discuss how to best protect companies' operations and information against emerging threats. Well...
read more